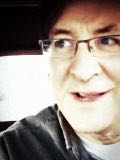 Walter E. Miller
1953 – 2019


Walter Miller, the founder of Walter Miller's Antique Automobile Literature or "AutoLit" to his many online friends and customers, passed away on November 15, 2019 following an eleven month battle with pancreatic cancer.
Walter was known by automobile collectors and enthusiasts around the world. He was also the founder of The Museum of Automobile History which was located in his home town of Syracuse, New York for some time until its' sale. He maintained a life-long passion of collecting, especially all things related to automobiles, but decided to close his literature business of over 40 years in March of 2019 to devote time to his family.
This website, AutoLit.com, and Walter's website MOAAAD.org (The Museum of Automobile Art and Design), will be maintained as a legacy to Walter and inspire those who share his passion with automobiles along with their design and history.
Please note that the AutoLit business is not operational at this time. The AutoLit store has been closed along with all sales on eBay and Amazon as of March, 2019.
Welcome to Autolit.com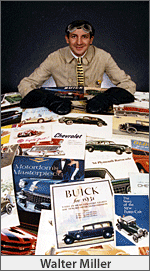 AutoLit.com is the Internet home of Walter Miller's Automobile Literature. We have been in business since 1976 and have been available through the Internet since 1996.
Surrounded by filing cabinets and a never ending stream of new automobile literature and related materials, Walter and his staff are able to provide customers with an incredible selection from a huge and always changing inventory.
AutoLit specializes in ORIGINAL automobile, truck and motorcycle literature! This means that literature purchased from AutoLit is the original item as printed by the manufacturer and not a photocopy or reproduction.
Our customers range from serious collectors and enthusiasts to used car buyers.
We invite you to browse through our website and our Online Store. If you have any questions or need additional information, please contact us!
Automobile Posters
AutoLit customers may recall a series of posters previously available in the former AutoLit Store. They were designed in collaboration between the late Walter Miller and NightShade Media, who performed the AutoLit web development for many years.
These posters are now available
directly from NightShade Media
.