Articles in Print Featuring Walter Miller
Over the years there have been many articles on Walter Miller, his AutoLit automobile literature business, and his world renowned collections of automobila and automobile art and design.
Here are just a few of these articles in PDF format (and where possible in HTML format) that we have prepared from the original printed versions. Please note that these have been digitally converted using optical character recognition methods to allow the articles to be searchable and readable in various resolutions (rather than simple scans of the articles). Some errors in text conversion are unfortunately unavoidable.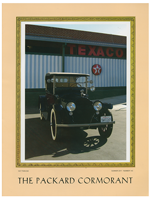 A Runabout Restoration by Walter Miller

Should a 1917 Twin Six be Restored with its Original or Custom Body… continued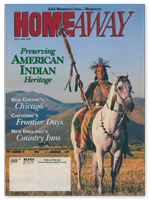 Cars, Cactus and A Cornucopia of Collections

The museum grew out of the personal collection of founder Walter Miller, who for decades roamed the world looking for… continued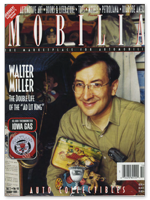 The Double Life of Walter Miller

Miller vividly remembers the great day when he needed to purchase his first, sole file cabinet; that was in 1978. Today, there are 300, and he has taken to… continued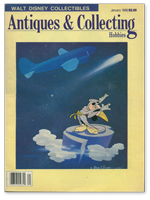 Antiques & Collecting 1988 Syracuse Man Turns Childhood Fascination Into World's Largest Collection Of Auto Literature

When he was six years old, Walter Miller began clipping automobile advertisements from… continued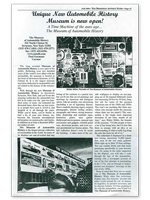 Unique New Automobile History Museum is now open!

The long awaited Museum of Automobile History is now open to the public. Reflecting over two hundred years of the world's love affair with the automobile, the museum is located… continued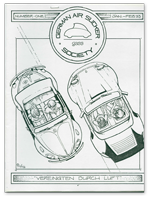 Interview with Walter Miller on his early VW Collecting

Early on when I entered the Volkswagen hobby, I became intrigued by the sales brochures that were given out to prospective customers… continued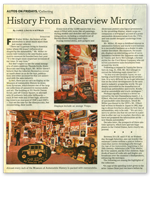 "There isn't a person living in America today whose life wasn't influenced or shaped by the automobile. It's the single-most-important invention of our time." said Walter Miller… continued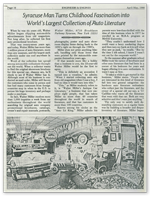 Engineers and Engines 1988 Syracuse Man Turns Childhood Fascination into World's Largest Collection of Auto Literature

When a collector wants to find the original showroom brochure for this special car, chances are Walter Miller has it… continued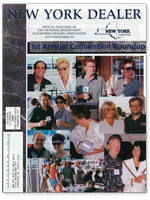 If just one museum could reflect all that the car has meant for the last two- hundred years, it would be the new Museum of Automobile History in Syracuse… continued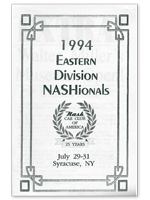 He has the largest collection of Automotive Literature in the World, including a large collection of Nash literature! On display at his place is a 1920's Nash Dealership globe… continued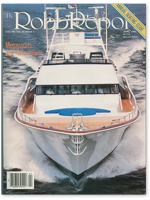 The Robb Report 1989 A Life's Work – Walter Miller is a man with a focus

Perhaps the only entrepreneur in existence who began active career training at the age of 6, Miller has never since looked sideways. He is the world's largest collector of auto literature… continued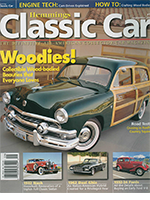 Hemmings Classic Car 2005 Specialist Profile: From an early age, he had a drive to buy and sell automotive literature

"When are you going to finally get rid of all that paper junk about cars? Look at what you're turning this house into, the Wreck of the Hesperus"… continued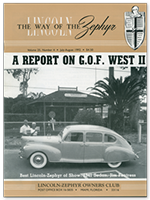 Piled on top of the files, arranged on shelves, heaped upon the floor or hang­ing from the ceiling are automotive toys, models, gas station artifacts, road signs, racing trophies, auto accessories and the boxes they came in… continued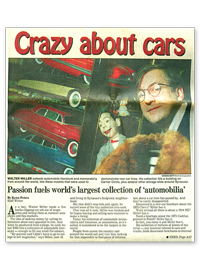 As a boy, Walter Miller made a few bucks clipping car ads out of magazines and selling them at summer auto shows and flea markets. The idea of making money by selling information about cars appealed to him… continued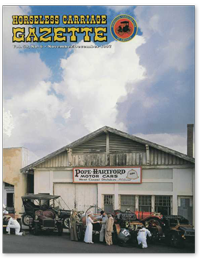 The museum takes visitors through two hundred years of the automobile age, with more than 10,000 items pertaining to more than 1,000 makes of automobiles, motor­cycles and trucks. It evokes the world that the automobile left… continued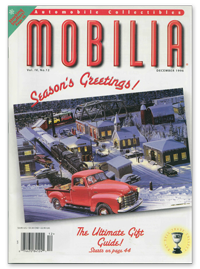 The much-anticipated Museum of Automobile History opened its doors October 22 in Syracuse, New York, unveiling to an appreciative audience the world's largest private collection of automobilia… continued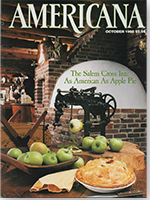 More than a million pieces of antique factory-printed automobile literature — the largest collection in the world…. continued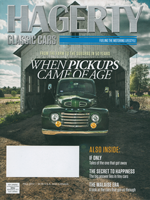 When it comes to automotive litera­ture, Walter Miller's AutoLit.com is about the biggest source….. continued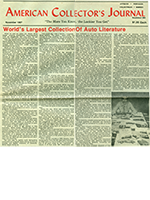 When he was six years oid, Walter Miller began clipping automobile advertisements from old magazines… continued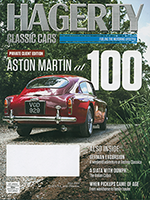 Like so many people in the auto "paper" business, Miller has been collecting his whole life… continued

Think you've got a lot of automobilia lying around? Well, Walter Miller has you beat… continued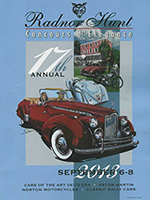 Hailed by many as the first to produce a grand touring automobile, Lancia introduced the B20 Aurelia GT designed by the renowned Vittorio Jano… continued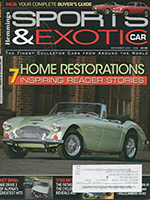 AutoLit king Walter Miller brought a rare Japanese treat for display, accompanied by its period factory literature-a 1960 Prince Skyline… continued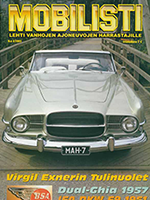 Article about Walter Miller and AutoLit.com in Finnish… continued