---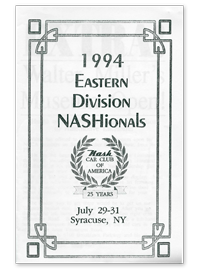 Eastern Division NASHionals 1994
EXTRA! Walter Miller's Museum is Open!
---
| | | |
| --- | --- | --- |
| | | |
| | | |
| | | |
| | | |
| | | |
Extra!

Walter Miller's

Museum Open!

Home of the World's Largest Collection of Automotive Literature!

Walter has offered to have his store/musuern open for NCCA members on Saturday after the car show, from 4-6 PM.

He has the largest collection of Automotive Literature in the World, including a large collection of Nash liturature! On display at his place is a 1920's Nash Dealership globe and an actual letter from Charles Nash!

He also has toys and other memorabilia on display. Next door is his collection of original automotive art featuring racing posters, original art work and more. Plus there will be an opportunity to purchase Nash literature for your collection.

The easiest way to get there would be to get on the Thruway headed east, get off at exit 35. After you go through the toll booth, go right, take the first right onto Thompson Road. Brooklawn Parkway will be a left-hand turn off Thompson Road. You can see the old cars in front of his place from Thompson Road.

The address is 6710 Brooklawn Parkway and his phone number is 432-8282.

Another Syracuse "Must See!"