About AutoLit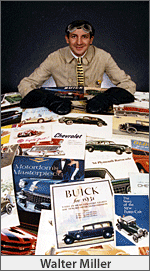 AutoLit.com is the Internet home of Walter Miller's Automobile Literature. We have been in business for over 30 years and have been available through the Internet for over 10 years. Our database-driven online store has been open for over 6 years.
Surrounded by filing cabinets and a never ending stream of new automobile literature and related materials, Walter and his staff are able to provide customers with an incredible selection from a huge and always changing inventory.
AutoLit specializes in ORIGINAL automobile, truck and motorcycle literature! This means that literature purchased from AutoLit is the original item as printed by the manufacturer and not a photocopy or reproduction.
Our customers range from serious collectors and enthusiasts to used car buyers.
We invite you to browse through our website and our Online Store. If you have any questions or need additional information, please contact us!
Walter Miller's Antique Automobile Literature
Web: Contact Form
Phone: (315)432-8282
Fax: (315)432-8256
Mail: 6710 Brooklawn Parkway, Syracuse, NY 13211